I am pleased to announce that NetApp Harvest v1.3 is now available on the NetApp Support Toolchest! This feature release includes lots of new counters, dashboard panels, and of course, bug fixes.
Major new features in version 1.3:
Support for ONTAP 9.0 and 9.1
Support for OnCommand Unified Manager 6.4, 7.0, 7.1
Updated dashboards that leverage Grafana 3.x features
New counters and dashboard panels:

MetroCluster (FCVI)
Backend disk/tape adapters
NFS v4 and NFS v4.1

Logfile rotation
Ability to set multiple templates which are merged to make running template (ex: template = default,my-extra-counters.conf)
Native installer packages for Debian/Ubuntu (.deb) and RHEL/CentOS (.rpm)
I updated many dashboards with new panel types in Grafana 3.x including tables and gauges and am pleased with how they turned out!
Some examples: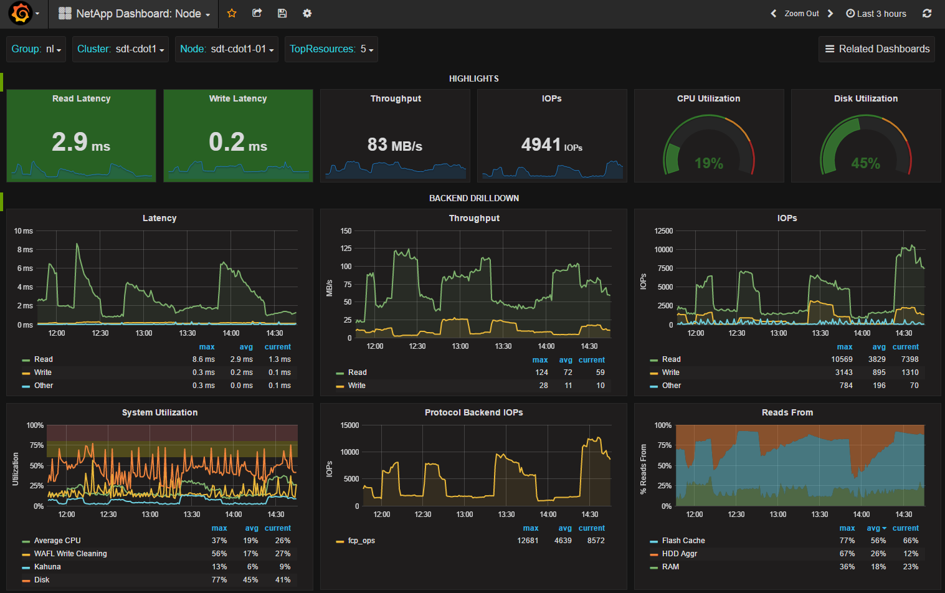 More views
The MetroCluster dashboard should be really useful to those who want to measure and analyze these configs. The NFSv4 and v4.1 stats will give customers a view into performance of those protocols that was missing before. And maybe most important, especially with the faster release cycles from NetApp engineering I've updated Harvest to work with the latest ONTAP and OnCommand Unified Manager versions.
Easier install
Installing and upgrading has also gotten easier and Harvest is now available using native .deb and .rpm packages in addition to the previous .tgz source package. For those with v1.2 you can simply install the native package on top of your original source install, import the newest dashboards, and you are upgraded to v1.3!
All-in-one virtual appliance
Lastly, for those who want an all-in-one solution with a focus on ease of use I also invite you to check out Yann Bizeul's NAbox. In recent months this OVA template has been updated with an admin web UI. The NAbox (previously known as the ADVA) provides you the latest Graphite and Grafana software pre-installed, and web form simplicity to configure Harvest pollers. No Linux skills required. Highly recommended!
Support and download information
Download NetApp Harvest: here
NetApp Harvest is supported via NetApp Communities. Create a new discussion on the NetApp Communities site for any questions or support. Please use a tag of "netapp-harvest" to make it easily identifiable.
Stay tuned for future blogs where I go into more details on these latest features.
Comments are always welcome!